The 2021 University of Michigan-Shanghai Jiao Tong University Joint Institute (UM-SJTU JI, JI hereafter) Graduate Commencement Ceremony was held at CIMC Auditorium of Long Bin Building on March 26. The ceremony was attended by invited keynote speaker Fellow of Canadian Academy of Engineering, Director of WIN 4.0  at Western University Jun Yang, JI leaders including Dean Peisen Huang, Associate Dean for Academic Affairs Chien-Pin Chen, as well as faculty and staff representatives, graduates of 2021. Chien-Pin Chen hosted the ceremony.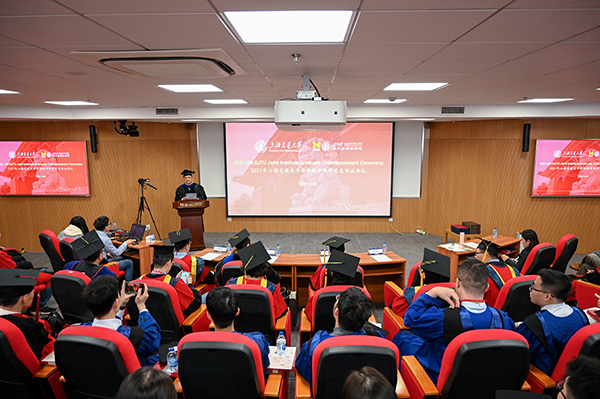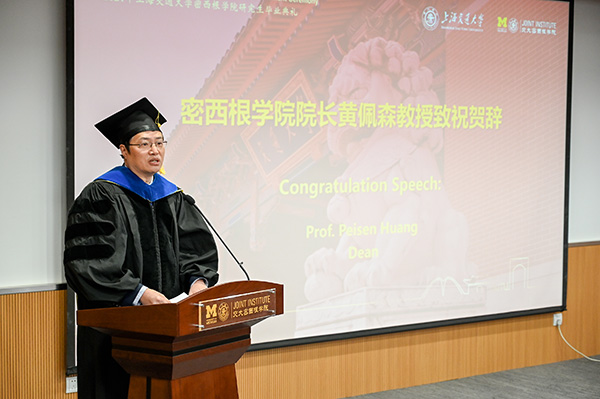 Peisen Huang congratulated the graduates on behalf of JI faculty and staff. Since JI started its graduate program in 2010, more than 200 students have obtained the graduate degrees while the quality of JI's graduate education has been increasingly recognized in China and around the world. Sharing the story of doctoral student Mingchao Ma, awardee of the SJTU Excellent Ph.D. Graduate Development Fellowship who is going to MIT for his postdoctoral study, Dean Huang hoped the graduates have the resilience to persevere through tough times and the determination to achieve their goals to succeed in both professional and personal lives.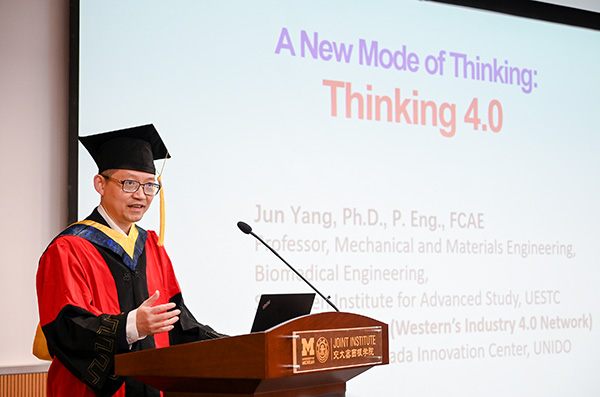 Jun Yang delivered a keynote speech titled "A New Mode of Thinking: Thinking 4.0". As the center director of Canada's first Industry 4.0 research program, he shared with the students insights on the future of human society based on his research findings. In the era of Industry 4.0 featuring cyber physical systems and internet of things network, human knowledge has been growing rapidly at an unprecedented speed. In the face of challenges brought by information explosion, students need to be equipped with a new mode of thinking and be a deep thinker, said Yang.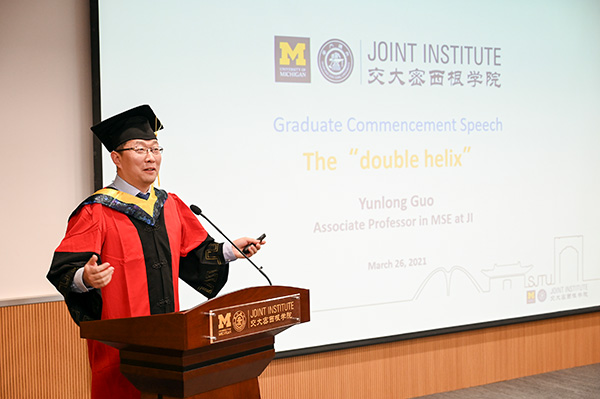 JI Associate Professor Yunlong Guo made a speech as a faculty representative to congratulate and offer his blessing to the graduates. With a speech titled The "double helix", he offered insightful analysis on the past experiences and the future challenges for the graduates. The students should try their best to embrace the world marked by changes unseen in a century, to make a difference and experience an extraordinary life, said Guo.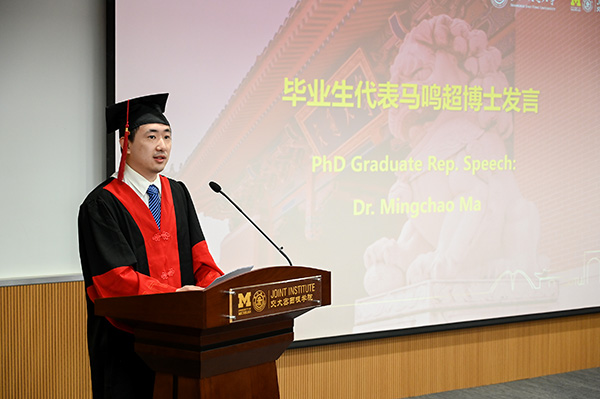 Mingchao Ma made a speech on behalf of the doctoral graduates. Having studied at JI for 10 years starting from his undergraduate study, Ma said he was full of gratitude for JI faculty and staff. "Looking back the stay at JI – those were golden years for many of us. What we take with us when we leave are interests, engagement, and intellectual skills, as well as the thrill in chasing down ideas of innovation for leading technologies."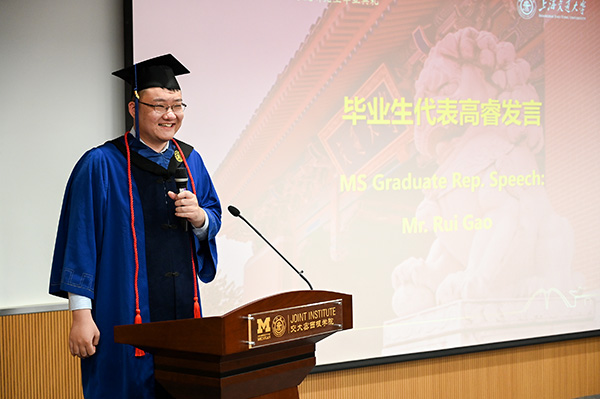 Rui Gao made a speech on behalf of the master graduates. He expressed his gratitude for his advisors who provided guidance and support to develop his capability to do independent research, which prepared him for the upcoming doctoral study. Meanwhile, he wished all the graduates could enjoy their lives afterwards, just like how they had enjoyed ourselves at JI.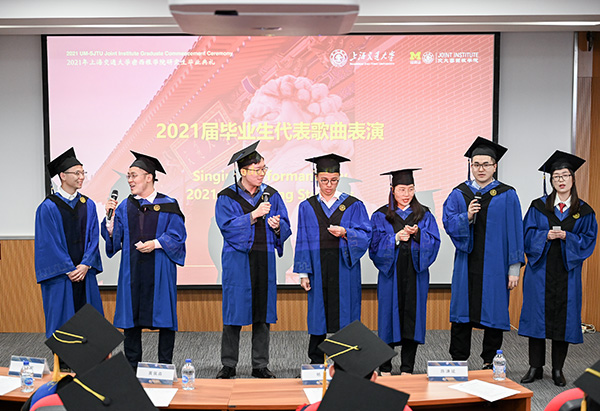 Singing performance by graduate students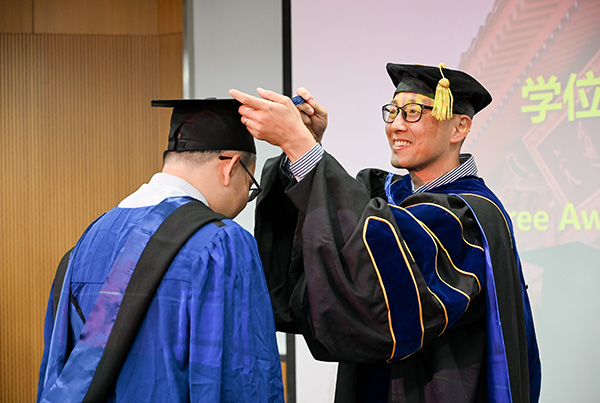 Hooding and turning the tassel ceremony for graduate students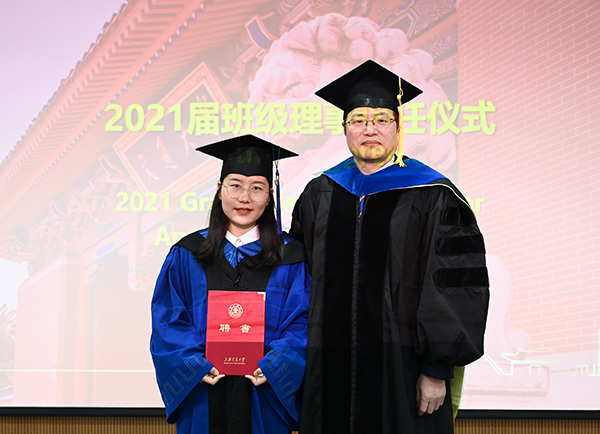 Xiaofei Zhang was appointed Advisor for Class of 2021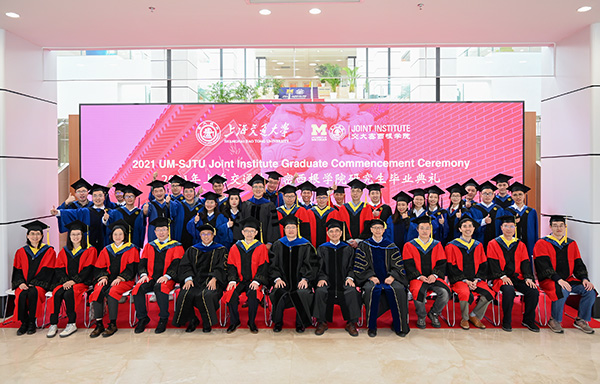 This year, JI bestowed a total of 20 master degrees and 5 doctoral degrees. Among the graduates, four master students will pursue Ph.D. study at top universities in north America, Europe and China. One Ph.D. graduate will join MIT as a postdoc. The others have successfully landed jobs at leading multinational or domestic companies such as Huawei, KLA-Tecor, CATL and United Imaging.