Mr. Hanyang Zhuang, a first year Ph.D. student of Professor David L.S. Hung, received an outstanding paper award of the Graduate Student Technical Paper Competition Session in the 2014 ASME 4th Joint US-European Fluids Engineering Division (FED) Summer Meeting in Chicago this August, organized by the American Society of Mechanical Engineers (ASME).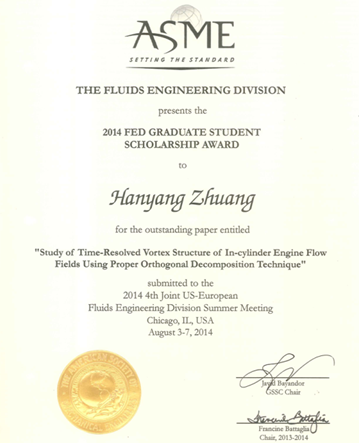 The award-winning paper, entitled "Study of Time-Resolved Vortex Structure of In-cylinder Engine Flow Fields Using Proper Orthogonal Decomposition Technique," uses the proper orthogonal decomposition and an in-house vortex structure identification algorithm to analyze the in-cylinder flow field of a spark-ignition direct-injection engine. It demonstrates an effective way to identify the crank-angle resolved large-scale vortex center evolution and extract the dominant vortex boundary structures with small-scale variation structures. This paper was co-authored by Prof David L.S. Hung and Hao Chen.
As his mentor, Prof. Hung said happily: "I am very proud that Hanyang Zhuang won the Outstanding Paper Award at the internationally renowned conference. I am also glad to see the JI's achievements in training scientific research talents, which have begun to emerge on the world stage and gradually been recognized by more and more international forefront research fields and leading academic institutions."
The conference has been one of the ASME's flagship conferences on fluids engineering with the primary scope of expanding the international cooperation and promoting the efforts and disciplines in various areas of fluids engineering systems and technologies. Over 500 papers were presented at this conference this year, covering all types of fluids engineering system for a wide variety of fundamental topics and industrial applications.
This research project is sponsored by General Motors Company (USA) and National Natural Science Foundation of China (NSFC) under grant No. 51176115/E060404.  It was carried out at the National Engineering Laboratory for Automotive Electronic Control Technology of Shanghai Jiao Tong University. Part of this recognition also includes a 2014 FED Graduate Student Scholarship Award for Hanyang to continue his research in fluids engineering. He will be invited to participate in the technical committee for the activities in the ASME Fluid Engineering Division for 2015.