The 2023 University of Michigan-Shanghai Jiao Tong University Joint Institute (UM-SJTU JI,JI hereafter) Commencement Ceremony was held at Jing Jing Auditorium of the SJTU Minhang campus on August 4. The live-broadcasted ceremony was attended by SJTU Vice President Xuemin Xu, UM Vice Provost for Engaged Learning Valeria Bertacco, invited keynote speaker Global Vice President of Amazon Brian Xue, JI leaders including Dean Chien-Pin Chen, Party Secretary Ming Yang, Associate Dean for Academic Affairs David Hung, Associate Dean for Undergraduate Education Gang Zheng, Deputy Party Secretary and Executive Director Scott Yang, Deputy Party Secretary Chong Wang, Associate Dean for Graduate Education Yongxing Shen, Associate Dean for Research Yanfeng Shen, as well as faculty and staff representatives, Class of 2023 graduates and their parents. Gang Zheng hosted the ceremony.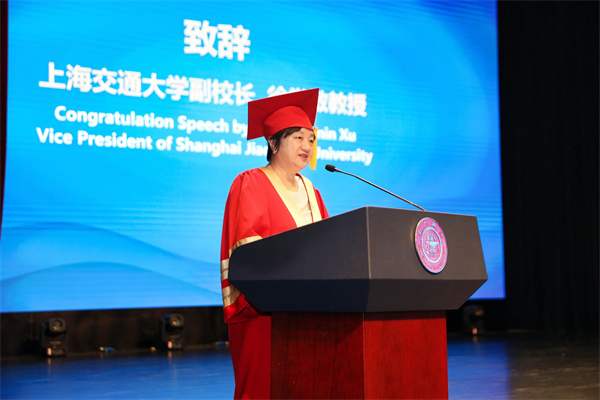 Xuemin Xu congratulated Class of 2023 students for completing their studies with the backdrop of an ever-changing era and countless challenges. "In the past years, you have experienced the novelty of online classrooms and examinations, and the concerns of studying abroad amidst complex international relations. However, you have demonstrated independent thinking, composure in the face of adversity, and perseverance in your pursuit of knowledge, overcoming obstacles and gaining wisdom along your academic path," said the vice president who also expressed her expectation that the students will embrace innovation, strive for global perspective and have a national and global outlook in their aspirations.
In her pre-recorded video congratulation speech, UM Vice Provost for Engaged Learning Valeria Bertacco said, "As graduates of the JI, you're about to become alumni of two of the most prestigious academic institutions in the world. You have gained experience in working with people across cultures and in multiple countries, a trait that is very important today and will be invaluable tomorrow. " She also expressed her expectation on the graduates. "As you join the new community of alumni, we count on you to help us continue to bridge our two cultures, to support the future of the JI, to find common ground that will help us grow together towards positive progress for the planet."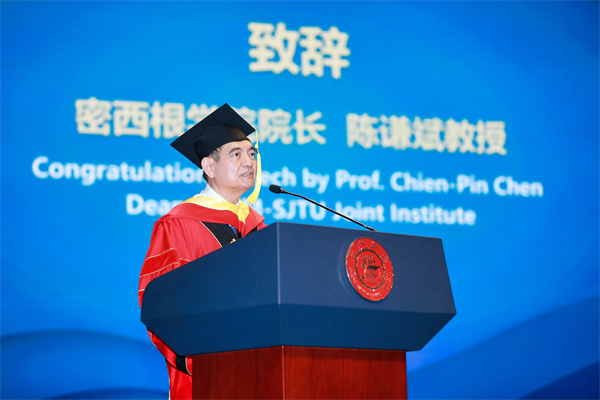 Chien-Pin Chen conveyed his heartfelt congratulations and highlighted the students' exceptional achievements amidst unprecedented challenges featuring the evolving global political landscape and the severe COVID-19 pandemic. "Because of you, JI is stronger and more flexible. You ensured that the JI spirit, the spirit that drew you here, would endure, and you have found ways to make it even better."
Chen also offered three advices for the graduates as they embark on a news stage of life: Embrace the world and adapt to the changes; Apply innovation and creativity in studies or work; Carry gratitude in heart and uphold responsibilities. "People have higher expectations for you, and if anyone can positively impact the world, it is every one of you. Stay focused and stay healthy," said the dean.
Brian Xue delivered an inspiring keynote speech to the graduates, as an alumnus of both SJTU and UM. He said the SJTU-UM partnership has created an extraordinary environment that fosters cultural exchange, diversity, and global collaboration. The motto of UM, "Artes, Scientia, Veritas", and the SJTU motto, "Gratitude and Responsibilities", encompass the essence of the JI students' learning and understanding, and will become a valuable asset for their new life journeys.
In the part of sharing life experiences and insights, Xue placed emphasis on two keywords, "innovation" and "failure." He shared three qualities that have guided his 40-year career. "Be bold, courageous, and relentless in your endeavors. As you venture forth, follow your dreams and take solid steps, embrace the role of a change agent, take ownership, and let your actions lead to a better world."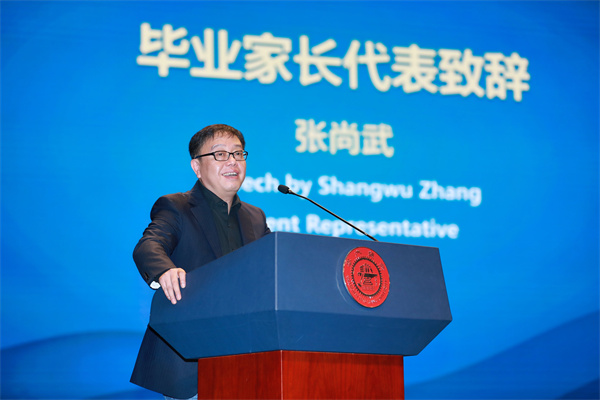 In his speech on behalf of parents, parent representative Shangwu Zhang expressed gratitude to JI for fostering innovation and international perspectives. He encouraged the new graduates to pursue their dreams, find happiness, and become part of the JI culture. He also congratulated the parents on this important milestone and wished them to be steadfast support for their children.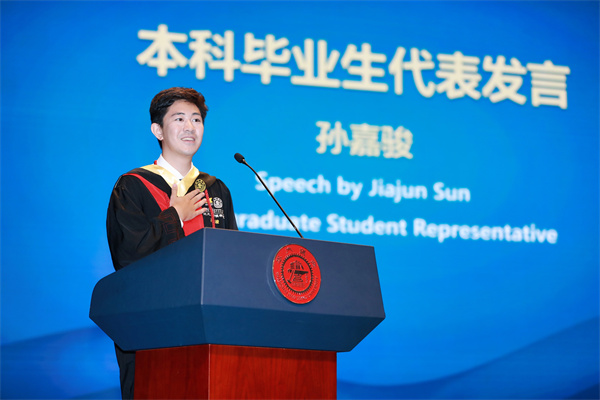 Jiajun Sun, valedictorian of the 2023 bachelor degree graduates, shared his story of growing-up at the joint institute. He said his four years were filled with unexpected experiences, from research groups to singing competitions and an exchange program at Cornell University. He cherished every moment and believed the institute's education would be the starting point for higher dreams. Through his self-composed graduation tribute song, "Dear Freshman Me", he blessed his classmates to believe in their potential and looked forward to a bright future reunion.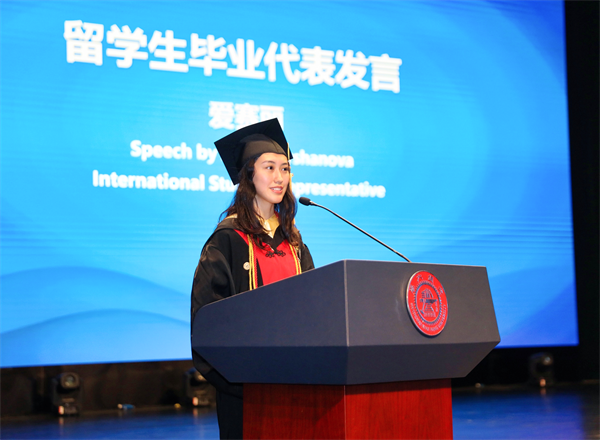 In her speech representing the international students, Assel Surshanova from Kazakhstan shared her challenging and memorable journey over the past four years. She expressed pride in completing the challenging curriculum and fondly recalled cherished moments with friends. Surshanova thanked JI for offering warm memories and the unique opportunity to pursue her dream and study aerospace engineering at UM.  She wished the graduates with limitless potential a bright and successful future.
Ten students receive appointment certificates as 2023 Class Directors for the new graduates.
To express their gratitude and farewell sentiments to the institute, the representatives of the Class of 2023 presented a thoughtfully prepared gift, a sculpture of JI mascot Blue Tiger wearing a graduation cap designed by the graduates themselves. Chien-Pin Chen and Ming Yang, on behalf of JI, accepted the gift.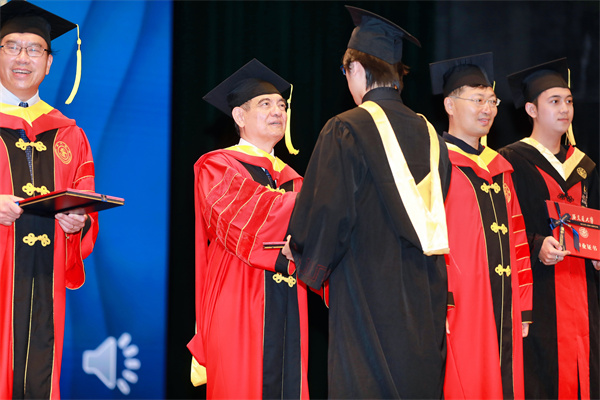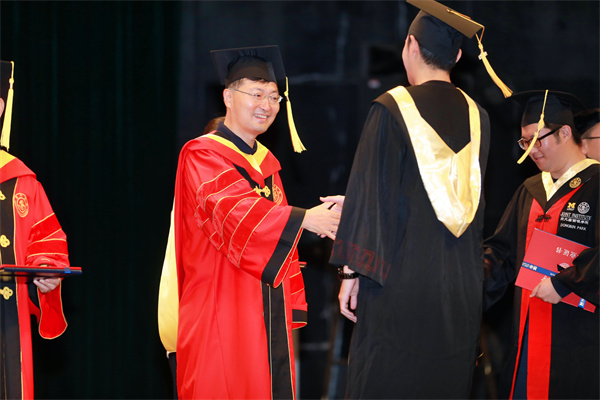 JI leaders award degree certificates to students.
Degree awarding ceremony was held afterwards. The Class of 2023 graduates in personalized academical dresses had their tassels turned and received their degree certificates under the witness of hundreds of onsite and online audiences.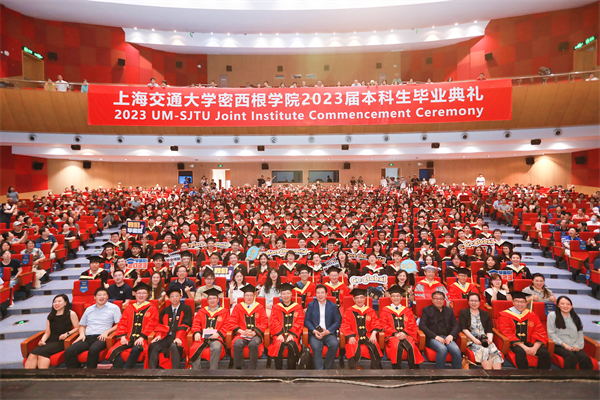 Group photo of event attendees