On April 12th, JI's Eighth Anniversary, many parents of JI students traveled from all over China to join the celebration. They witnessed the ground breaking of the new JI building and participated in a parent forum organized by JI staff and parent volunteers.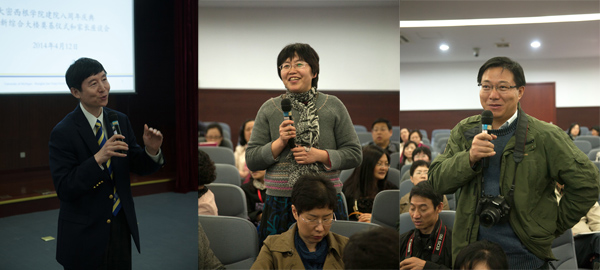 During the parent forum, Xinwan Li, JI Party Secretary, first thanked the parents for their dedication and support. Then Scott Yang, Academic Affairs Manager, briefed parents about JI's progress and future plan. Several faculty and staff members, including Aki Miao, Undergraduate Program Manager, Wentao Qian, Student Counselor, Vincent Chang, Faculty Director of Corporate Relations, and Jie Lin, Student Counselor, showed up to answer many parents' questions concerning JI's curriculum, student counseling, capstone design, internship opportunities, and graduate placement. The exchange was lively. Dean Jun Ni  took the opportunity to share his decade-long journey of nurturing JI to her present success. He was grateful for parents' enthusiasm and support. He answered their questions in detail. After giving out prizes to the raffle winners, Dean Ni happily posed for photos with the parents and inquired about their children. The parents treasured the face-to-face opportunity with JI administration and faculty. They are proud of being treated as members of the JI family.
At end of the day, all the parents expressed their satisfaction with the event; they had gained deeper understanding of JI and new insight into the choice between dual degrees at UM and 4-year undergraduate study at JI. JI graduates' success in domestic job market has grained many parents' trust in JI's 4-year undergraduate program. Moreover, JI's student-first approach and well-rounded education model have won their hearts.