The University of Michigan-Shanghai Jiao Tong University Joint Institute (UM-SJTU JI, JI hereafter) held the 2019 Thank You Day event at Long Bin Building on November 16, in a bid to express gratitude to all people who have provided continuous support for the development of JI. Over 200 people attended the event, including Director of SJTU Development and Liaison Office and Secretary of Education Development Foundation Jiaojie Cheng, Deputy Director Jinxian Huang of the SJTU office, JI Honorary Dean Jun Ni, Dean Peisen Huang, Party Secretary and Associate Dean for Research Ming Yang,  Associate Dean for Academic Affairs Chien-Pin Chen, Associate Dean for Undergraduate Education Gang Zheng, , representatives of JI Development Advisory Board,  donors and their families, donation institutions, enterprises, parents, teachers, students and alumni. The event was officiated by JI Deputy Party Secretary and Executive Director Scott Yang.
In the opening speech, Peisen Huang said support of friends from all walks of life is indispensable to the development of the Joint Institute. Since its establishment 13 years ago, JI has built up dozens of scholarships   including the John Wu and Jane Sun Scholarship Series, the Tang Jun Yuan Scholarship, the Yu Liming Endowed Scholarship, Sam & Daisy Wu Scholarship, Jackson and Muriel Lum Endowed Scholarship and Cheng Family Endowed Scholarship, as well as education funds, numerous financial support for teaching and research projects. JI will incessantly stick to the SJTU motto that "When you drink water, never shall you forget its source; Love your motherland and bring honor to your almamater" and work together with all the JIers here to make JI be more confident of its development and enhance educational quality to get better results in return for the care and kindness received.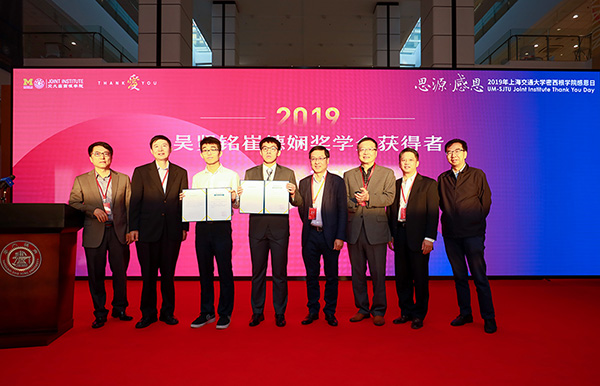 Some donors present 2019 Sam & Daisy Wu Scholarship to winnners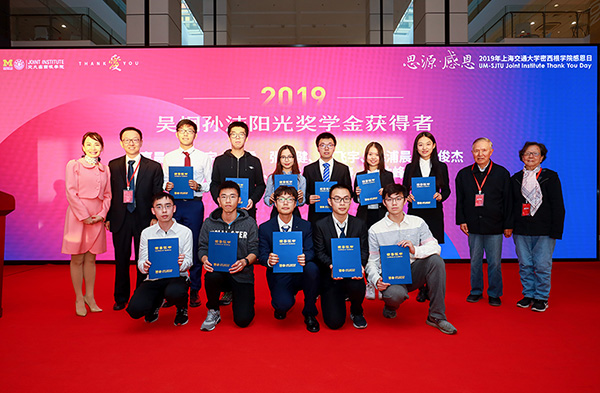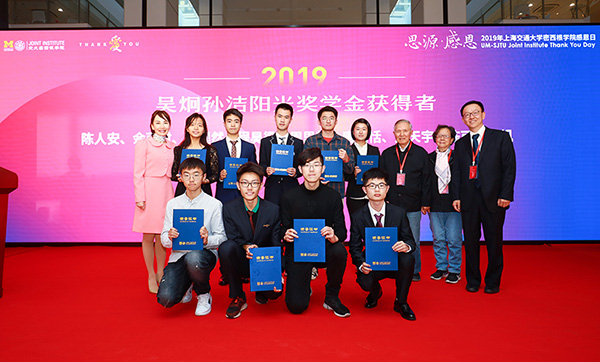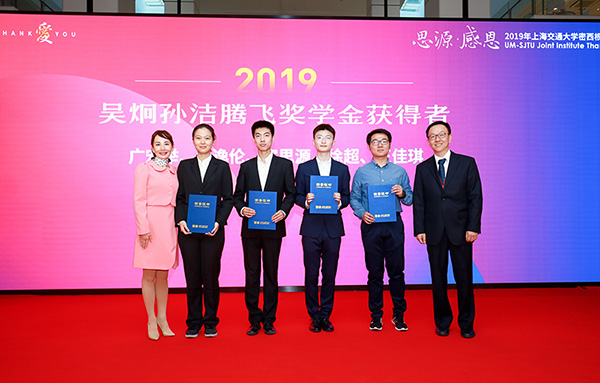 Donors award 2019 John Wu and Jane Sun Sunshine and Merit Scholarships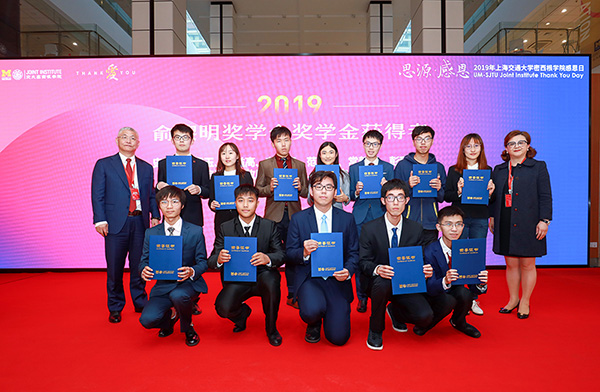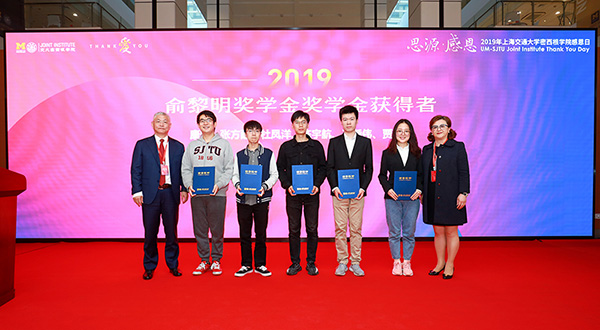 Donors award 2019 Yu Liming Endowed Scholarship
JI leaders award 2019 Fuda Scholarship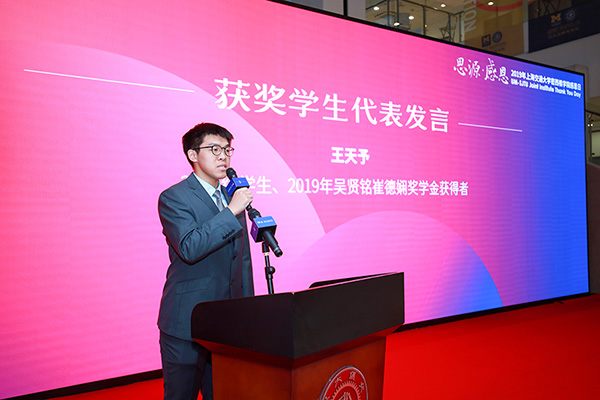 Tianyu Wang, a senior student of JI and winner of the 2019 Sam & Daisy Wu Scholarship, made a speech on behalf of other scholarship winners. He extended his gratitude to Sam & Daisy Wu Scholarship for inspiring undergraduates to participate in scientific research, and shared his research stories. He joined the JI laboratory and engaged in data mining after he became a sophomore, which made him feel privileged to work with master and doctoral students in practical research projects. Through participation in various projects, he learned that accumulation and preservation of experiences in the laboratory are crucial to the long-term development of scientific research, and participation of undergraduates can speed up the process.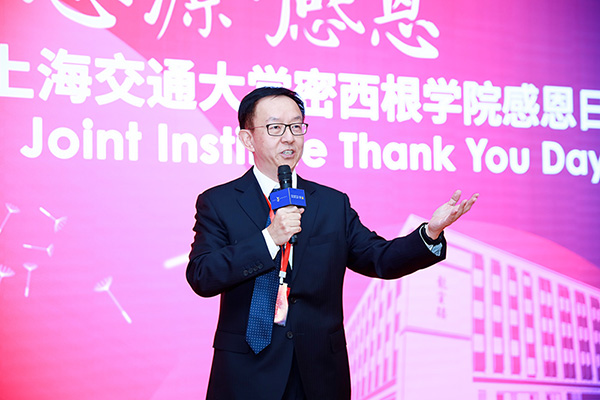 John Wu, founder and chairman of FengHe Group and founder of John Wu and Jane Sun Scholarship, made a speech as a representative of the donors. Wu said that every time he came to the campus,  it endeared to him. He always shared the belief with his wife Jane Sun that education is the best way to shape a better future for individuals and society, which is also his motivation of setting up John Wu and Jane Sun Scholarship four years ago. He felt gratified to see that the newly-built Long Bing Building with donation of the couple has become a new landmark in SJTU. JI is a paradigm of Sino-US joint education, serving as a positive demonstration effect in exchanges of culture, science and technology between China and the United States. He felt proud of JI's contribution in promoting Sino-US relations. Finally, on behalf of all the donors who support and care for JI, he extended his gratitude to the management team of JI. It is the untiring and conscientious work of the management team, faculty and staff that has led to JI's current achievements.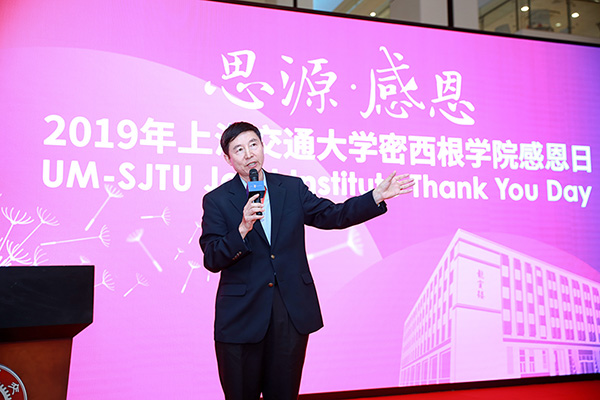 JI founder Jun Ni concluded that being grateful has long been a historical tradition in both Chinese and Western cultures, and SJTU also boasts the motto reflecting such virtue. During his study at SJTU and later in his career, he got a lot of help from others. The establishment of JI enables him to pass on what he has learned to the next generation and creates a better educational environment and platform for domestic students. He encouraged all the students and alumni present to keep gratitude in mind in the future and try their best to give back to society and their alma mater.
Representatives of donors unveil the Thank You Wall
An unveiling ceremony of the Thank You Wall was held in a bid to extend gratitude to all individuals, organizations and institutions for their longtime support for JI. The Thank You Wall will become a new symbol of JI, promoting JI to carry forward virtue of gratitude and to preserve the culture of being grateful.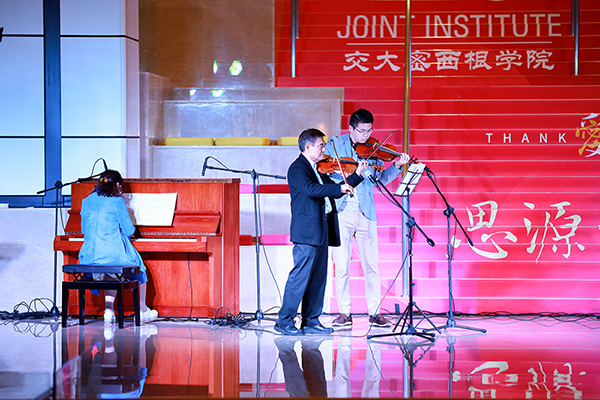 The event day also covers luster-adding students' artistic performance and exhibition of paintings and calligraphy of well-known painters, teachers, students and alumni. As a themed event to carry forward the gratitude culture, the JI Thank You Day will be held regularly in the future.