Pursue a master's program in a different major from a top overseas university? Obtain both bachelor's and master's degrees from first-class universities in five years? For students who participated in Global Degree Pathways (GDP) programs at the Shanghai Jiao Tong University-University of Michigan Joint Institute (JI), the above-mentioned dreams are soon to come true.
Recently, a University of Michigan (UM) delegation led by Associate Vice Provost and Director of Global Engagement Amy Conger visited Shanghai Jiao Tong University (SJTU), in a bid to display UM's commitment to further mutual cooperation and offer more opportunities to Chinese students.
During the event attracting more than 300 students and parents on site, Amy Conger said UM attaches great importance to the visit to SJTU, and has sent a number of leaders and professors of relevant GDP projects to the scene to have close communication with Chinese students and parents. More students from JI are expected to participate in the master's and doctor's programs of UM through the GDP projects. "Since the UM-SJTU Joint Institute was established over 10 years ago, the two universities have built up partnership with mutual trust. Nearly half of the international students of UM are from China, including a lot of students from JI. We were really impressed by the JI students on their academic performance, team cooperation and intercultural communication. The Chinese students, especially the JI students, are warmly welcome to study at UM." she said.
Go Global Day event was held at Long Bin Building.
GDP programs aids  nurturing multi-disciplinary talents
JI launched the GDP project in 2018, offering programs serving to create a seamless pathway for undergrads to pursue master's degrees at global top universities. UM is the leading partner of JI in offering GDP programs, which cover a wide spectrum of majors and are extremely popular among JI students.
JI Dean Peisen Huang delivers opening speech.
Amy Conger speaks on behalf of UM.
At present, JI has already established numerous sequential undergraduate/graduate study programs with various institutes of UM including College of Engineering, School of Information, Ross School of Business, School of Environment and Sustainability, College of Literature, Science and Arts. The programs cover a wide spectrum of majors including electrical and computer engineering, mechanical engineering, navel architecture and maritime engineering, automotive engineering, energy systems engineering, global automotive and manufacturing engineering, manufacturing, systems engineering and design, data analysis, user interface and design, management, environment and sustainability, applied statistics. New programs in majors of supply chain management and accounting were launched recently in collaboration with Ross School of Business. These programs are meant to help nurture international multi-disciplinary talents.
During the introduction session, JI Dean Peisen Huang said that it is the inherent needs of JI to expand international cooperation and nurture students with global visions. Through GDP programs, seamless connection is built up between the excellent undergraduate courses of JI and Master's courses at world's renowned universities. With such connection, students can enjoy not only much higher success rate of getting into top overseas universities, but also rapid adaptation to overseas education systems. JI will continue working with UM to expand mutual cooperation and offer more diversified master's programs for students.  In the future, the list of GDP partners of JI is expected to cover more world-acclaimed universities. Students can choose universities in accordance with their research interests and achieve more diversified development.
Two "cutdowns" and one "mutual-recognition" demonstrate seamless connection between two universities
For a Chinese student to finish undergraduate and graduate studies in China, it takes at least 6 to 7 years. If one pursues a master's degree abroad, it takes at least 6 years depending on the destination country. Taking US for example, its master's programs span from 1.5 years to 2 years. GDP programs will undoubtedly cut down the time and expenses of overseas studies for JI students. According to Mary-Ann Myce, Associate Dean for Graduate Education, College of Engineering, JI students can apply in their third or fourth year, and the overseas study usually spans 3 to 4 semesters. As a result, it will only take 5 to 5.5 years for JI students to obtain a bachelor's degree at SJTU and a master's degree at a partner institute, which is at least one year shorter than a non-GDP program.
Mary-Ann Mycek gives a comprehensive introduction to GDP program in UM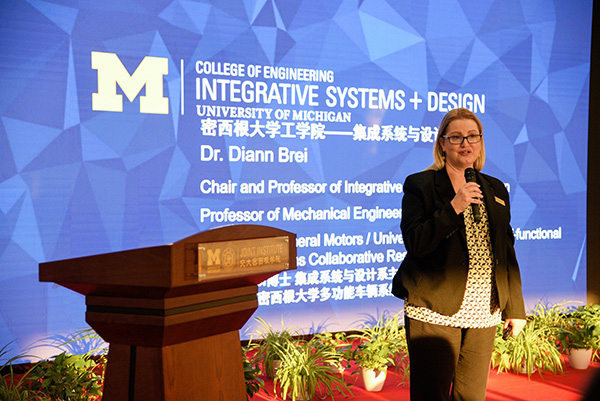 Diann Brei, Chair of Integrative Systems and Design, College of Engineering, introduces relevant cooperation projects
GDP program will grant JI students more streamlined application procedures and favorable conditions in submitting materials, including exemption from taking GRE tests and lower requirements for recommendation letters.
Apart from the favorable conditions in the length of schooling and application procedures, JI students can transfer 6 to 9 credits of their undergraduate studies to master's program in UM through GDP. This means some of the level 400 and 500 courses taken by students during their undergraduate years at JI can be recognized by the master's program at UM. Such arrangment can reduce required time for students to take courses during their graduate study, so that they can spend more time on scientific research and internship.
Comprehensive career development planning opens up broader career prospects
As a public funded university with its research funding ranking the first in the United States, UM is among the top in the US in such fields as aerospace, environment, engineering, machinery, electrical science, computer, etc., and its employment rate is equally outstanding. Laura Elgas, Executive Director of Academic and Student Affairs, School of Information, cited her own school as an example. She said information talents are badly needed with the widespread use of big data. 99% of the school's graduates work in their chosen field, with satisfaction rate of as high as 96%. Their employers include leading multinationals across the world. Graduates of master's programs covered by the GDP programs receive an average base salary of 25% higher than that of the average undergraduate. The first batch of JI students participating in the GDP program of the School of Information has basically completed their studies, and are currently applying for employment with the full support of the Career Development Office of the School of Information.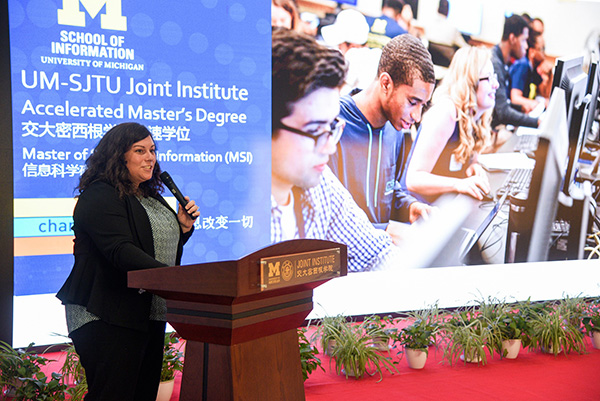 Laura Elgas introduces the cooperation project of School of Information.
According to Amy Conger, UM has a comprehensive career development planning system. Special employment training and career development offices at university and school levels provide students with career development courses, internship programs, employment counseling, part-time work resources, employer development visits, community participation and other opportunities, helping students plan for a better career. The second-to-none alumni resource is also expected to be a magic weapon for students entering the workplace.
Parents and students have a face-to-face discussion with UM delegates.