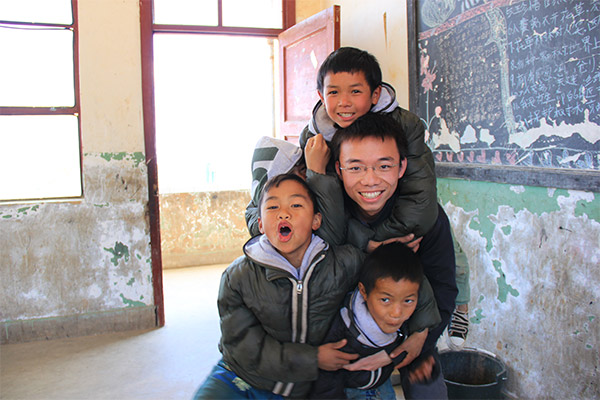 Abiding by the philosophy of "Internationalization, Interdisciplinary, Innovation, and Quality", the University of Michigan-Shanghai Jiao Tong University Joint Institute (JI) is aimed to build a world-class educational and research institute in China and foster future innovative researchers and leaders with a global perspective.
Supporting scholarships is one of the most powerful and meaningful ways that benefactors can help JI to make a difference of development in lives of countless best students in China.
Ways of Support:
1. Named Scholarship Fund
Donors can choose to name an expendable scholarship or endowed scholarship and make a gift at the appropriate level:
Expendable Scholarship requires a minimum gift of 50K RMB per year with three consecutive years of agreement.
Endowed Scholarship requires a minimum gift of 1 million RMB. To keep the endowment existing in perpetuity, a portion of the income will be utilized annually to provide scholarship awards to selected students.
The named scholarships are managed and implemented by JI Scholarship Committee to ensure the reasonable usage. The endowments are invested and supervised by Shanghai Jiao Tong University Education Development Foundation (SJTUEDF) to reserve the value and keep the stability of support.
2. Student Development Scholarship Fund
Student Development Scholarship is created with the intent that all of the funds donated to the JI Development Fund will be distributed over the course of time to support the student development in social practice and public service etc. Student Development Scholarship is a good option for donors to start with very smaller initial gifts (200RMB and above) and make additional gifts at any time.
UM-SJTU Joint Institute Development Fund (JIDF) is a college-level development fund affiliated with Shanghai Jiao Tong University Education Development Foundation. JIDF consists of special funds and annual funds. Special funds are restricted funds designated for specific purposes, while annual funds are unrestricted funds, including Student Development Scholarship Fund, Sam & Daisy Wu Scholarship Fund, Faculty Excellence Fund, Alumni Fund, Parents Fund, Innovation and Entrepreneurship Fund, etc. JIDF is in the process of accepting gifts from friends, alumni, parents, corporates and non-profit organizations.
Tax Exemption
According to the official Individual Income Tax Law, with respect to the charitable donations SJTUEDF incurred by individuals, the portion within 30% of the annual income is eligible to be deducted from the taxable income.
According to the official Law of Income Tax, with respect to the charitable donations to SJTUEDF incurred by enterprises, the portion within 12% of the total annual profit may be deducted from the taxable income.
Shanghai Jiao Tong University Foundation of America (SJTUFA)
SJTUFA is a nonprofit corporation registered in the State of California that qualifies for US federal tax exemption under Section 501 (c) (3) of the Internal Revenue Code, and classified as a private foundation under IRC Section 509. SJTUFA tax ID number (EIN) is 76-0802983. Gifts of less than a third of a person's annual income are tax-deductible, and any excess can be used as a tax credit for the next year, up to five years.
Endowment Gift
An endowment gift is a donation that is given with the intent to preserve the original value of the gift fund in perpetuity and invested. The income on the investment is used to fund an annual distribution. Through this dedicated stream of income, an endowment gift ensures the stability of a scholarship, professorship, or program.
Address
Room 445, Institutional Advancement Office,
Shanghai Jiao Tong University, 800 Dongchuan Road, Shanghai