Self-Portrait:
An undergraduate of class 2021 major in electrical and computer engineering
Graduate from Shanghai High School in 2017
Awarded National Scholarship in 2018-2019 Academic Year
Excellent Student in 2017-2018 Academic Year
Currently major in Data Science in the University of Michigan
A famous scholar, Mr. Zhou Guoping once said: "A person who has never used his own foot to make footprints on the road will not find a way that really belongs to him." Two years ago, I gave up the admission to Tsinghua University and chose the Joint Institute. Two years later, I found my own way in here.
Persistence and Resolution
The tight pace of the JI and the wide coverage of the course materials made me feel a lot of pressure when I entered the JI. I served as the monitor of the class and the head of the organization and liaison department of the Miyuan Youth Volunteer Team. I was a bit breathless because of the intensive study, and work. In my freshman year, I was also at a loss because of my tiredness and mediocre grades.
It was self-discipline and tenacity that saved me from the plight. The courses in JI not only test students' intelligence, but also our initiative, self-discipline and willpower. As a freshman, I sometimes stayed up late and did not communicate with professors very much. I took attending classes as a task every day. When I was a sophomore, I broke through my comfort zone and tried to change myself. During and after class, I tried to communicate with professors about issues that I did not comprehend, or ideas derived from the content of the class. Professors often provided me with unique insights or thought-provoking directions beyond the course content in related fields. Also, I tried to go to bed as early as possible every night, instead of staying up late. Slowly, I discovered that staying up late is not the only way to promote my study and work. "Start early" is the panacea for solving all problems.
The teaching assistant system of JI has also greatly improved my ability. It is not difficult to become a teaching assistant in JI, but it is not easy to be a good teaching assistant. Within the limited scope of knowledge, how to correctly and effectively pass on the understanding to others, and how to solve problems beyond their own scope of knowledge, are all challenges for teaching assistants. In the summer of my sophomore year, I was fortunate to be a teaching assistant for Vp140 Physics I. While answering questions and doubts for classmates on weekdays, I also found my knowledge loopholes when studying the course material again. By consulting other teaching assistants and professors, I perfected the knowledge of this course to make my academic base more solid. At the same time, the weekly RC (Exercise) classes and Office Hours, which are required in English, have exercised my expressive ability well, allowing me to state my views step by step in an orderly manner and speak with more confidence in front of a large audience. I spend a lot of time on teaching assistant work every week, but the persistence of one semester made me gain a lot. JI provides such an opportunity to improve the comprehensive quality of students. I am very grateful and cherish while enjoying this experience.
Many of the courses in JI are demanding, which gives students a great chance to challenge their own extremity and constantly improve themselves. Some of the students in JI are self-demanding and aggressive. They are models for me to study and follow. The atmosphere of JI has continuously hone me, tested me, and pushed me in a better direction.
Enthusiasm and Love
The global vision of JI students gives us a stronger sense of social responsibility. While enjoying a high-quality teaching environment, we do not forget the needs of our country and society and take the social responsibilities of a university student in the new era. With the support platform provided by JI, I came to Sanhe, Yunnan during the winter vacation of my sophomore year and gave a three-week short-term education support. Here, I met a group of people with the same passion and goals as me. We became very good friends in just three weeks.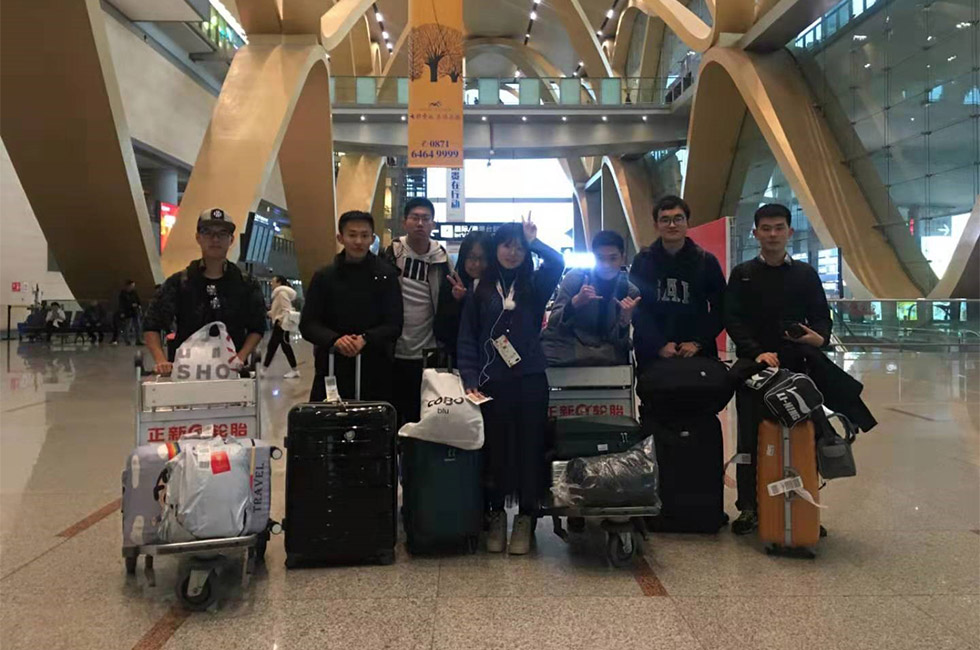 In Sanhe, I was deeply moved by the innocence of these children. Even though it has been almost a year, I still can remember the children's smiling faces. I can remember their greetings, together with shyness; I can remember their hard work together with their friends; I can remember the sadness and regret after they lose a football game; I can remember their colorful hand-painted posters for the New Year ……. It is they that encouraged me to find purity and hope outside the classroom. From these children, I saw the truth, goodness and beauty in human nature, so that I can slow down to explore life, appreciate life, and love life in the tight-paced school life.
Through such activities, I walked out of the ivory tower, contacted other aspects of society, and became more deeply aware of my responsibility as a college student in the new era. The high-quality resources and environment we enjoy now are for us to work hard to repay the society and meet the needs of the country. As I get closer and closer to my dreams, there are many people in the society who are not smooth sailing on the road to dreaming. They need our help and our support.
Chances and Challenges

In JI, such an international platform, cultural exchanges and collisions have made my personal growth more comprehensive. In the fall semester of my sophomore year, I signed up for the college's buddy program and applied to become the assistant class teacher of the 2018 class of foreign students in JI. The admission of international students is much more complicated than that of Chinese students, and the differences in language and culture have brought me great challenges. It may take me a lot of tongue to make international students barely understand what I mean. As freshmen who have just arrived in a foreign country, they asked me about all aspects of their study and life, but I also learned from their humility, politeness and self-confidence that are lacking in many Chinese students. The collision of culture shocked me and pushed me out of my comfort zone to embrace a different challenge.
Now I have come to the University of Michigan and I feel a very different cultural atmosphere from China. The people here are very enthusiastic and warmhearted. Strangers eating at a table in the cafeteria can quickly become friends. The library here is always open, but the students here know how to enjoy life instead of studying all day and night. The cultural atmosphere and collective consciousness are so strong that all people in this city will go to stadiums when there is a home football game.
When I was caught in the fear and confusion of a strange new environment, I often remembered my experience when I was working as an international student in JI. When I first arrived in a foreign country, my situation was just like the international students I helped at that time. Those who I have witnessed to break through of their restraints have become examples, giving me confidence, strength and courage. The experience of communicating with various cultures has allowed me to quickly adjust my state and adapt to the rhythm of life at the University of Michigan. I began to greet to strangers passing by and smiled to them; I started to participate in various new and unknown activities, merged into the University, and established a collective honor feeling… The beginning of the cultural collision is difficult and uncomfortable, but slowly I will grow from such culture exchange.
The full English curriculum system of JI is very similar to that of the University of Michigan. The two-year study experience in JI allows me to quickly adapt to the study life here. With the two-year international education in JI, I was able to be more relaxed and confident when I was exposed to a new culture and new environment.
Ending:

My two-year life in JI has shaped me into a qualified person, allowing me to move forward step by step in my own life. I hope that this experience will become my guide and strength in my future life.