Materials Science and Engineering Program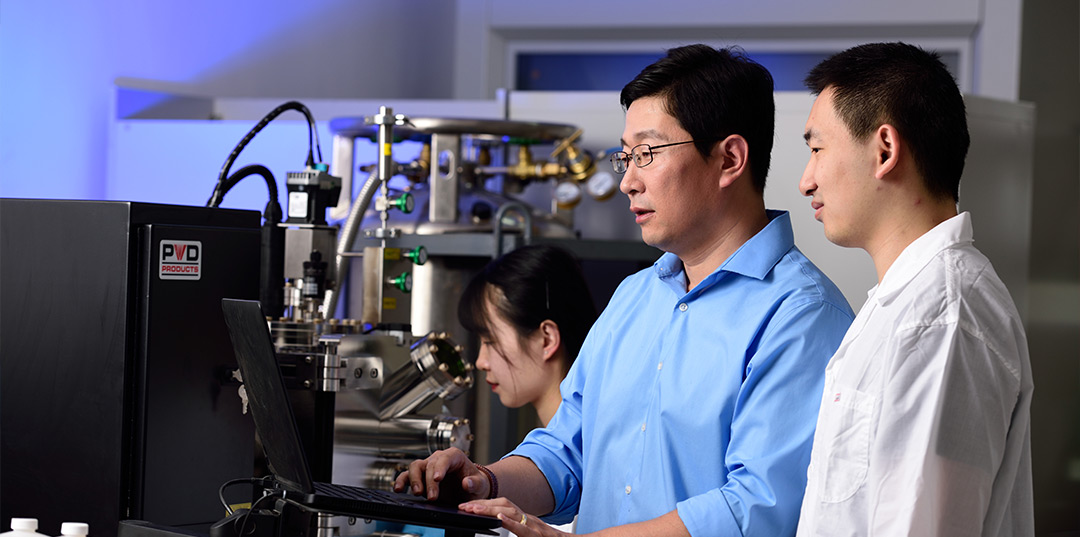 Materials Science and Engineering (MSE) is widely recognized as one of the key disciplines for the 21st century. In China, the government has designated new materials as one of the priority areas for rapid development with strong government support. It is expected that the demand for MSE engineers that has the professional knowledge, international outlook, and leadership and communication skills will show a significant growth in the coming years. As the third engineering program of the JI, the MSE program emphasizes on the education of well-rounded MSE engineers. The main purpose of establishing an MSE program at JI is to internationalize the materials science and engineering discipline at SJTU, strengthen SJTU's MSE program in the areas of functional and non-metallic materials, and promote education and research collaborations between UM and SJTU in the area of materials science and engineering.
The MSE program is designed to prepare students for the careers of the 21st century, whether they continue in engineering or pursue other paths after graduation. The goal of the program is to train students with an understanding of the fundamental knowledge in the MSE discipline; an ability to recognize and define a problem, and strong quantitative and qualitative problem solving skills; a mindset and skills that support lift-long learning; a deep understanding of professional ethics, social responsibilities, and multi-cultural working environment; and skills in team effort, interpersonal and professional communication, time and risk management, as well as critical thinking.
Curriculum of the MSE program closely follows the curriculum of MSE program at UM. It is built on a common science and engineering core. In the first 2 semesters, all students will receive rigorous instruction in math, physics, chemistry, engineering basics and computer programming. These courses have been verified by the UM College of Engineering as equivalent to corresponding UM courses. After the second semester, students choose to enter the MSE program. The program provides students with an excellent foundation in the core technical competencies of the discipline. In addition, an array of technical electives is offered to enable students to tailor their education to best suit their career goals.
Program Educational Objectives
Within 3 to 5 years after graduation from the MSE program, the graduates are expected to:
Further their intellectual growth through graduate education or professional development.
Apply their creativity and global perspective in their engineering or non-engineering professions.
Assume leadership roles in a variety of contexts.
Student Outcomes
Graduates from the MSE program should be able to demonstrate:
1) an ability to identify, formulate, and solve complex engineering problems by applying principles of engineering, science, and mathematics
2) an ability to apply engineering design to produce solutions that meet specified needs with consideration of public health, safety, and welfare, as well as global, cultural, social, environmental, and economic factors
3) an ability to communicate effectively with a range of audiences
4) an ability to recognize ethical and professional responsibilities in engineering situations and make informed judgments, which must consider the impact of engineering solutions in global, economic, environmental, and societal contexts
5) an ability to function effectively on a team whose members together provide leadership, create a collaborative and inclusive environment, establish goals, plan tasks, and meet objectives
6) an ability to develop and conduct appropriate experimentation, analyze and interpret data, and use engineering judgment to draw conclusions
7) an ability to acquire and apply new knowledge as needed, using appropriate learning strategies
Curriculum
Candidates for the Bachelor of Science in MSE must satisfactorily complete 136 credit hours required by the JI MSE program, including:
Engineering Foundation:             39 credits
Program Subjects:                        40 credits
Academic Writing                        8 credits
Intellectual Breadth:                    16 credits
Electives:

Advanced Mathematics:                 3 credits
MSE Electives:                      9 credits
Flexible Technical Electives:           12 credits
General Electives:                  9 credits
Domestic Chinese students are also required to take all Chinese politics courses required by the Ministry of Education of China. International students are required to take 12 credits of Chinese language and culture courses.
Course requirements for each of the credit categories are listed below:
Engineering Foundation (39 credits)
Program Subject (40 credits)
Academic Writing (8 credits)
Intellectual Breadth (16 credits)
This category requires:
2 credits of
14 credits of courses in humanities, social sciences, professional development, and natural sciences
At least 3 credits in humanities and at least 3 credits in social sciences must be completed.
The 14 credits may include courses with code Vr, Vx, Vw, Vf, and Vb. Vz courses are acceptable only for international students. Vy courses are acceptable except  and . UM courses that can be used to satisfy the CoE Intellectual Breadth requirements are acceptable.
Humanities category includes, but not limited to, Philosophy, English Language and Literature, Asian Languages and Culture, American Culture, Comparative Literature, Film Studies, etc.
Social Sciences category includes, but not limited to, International and Comparative Studies, Political Science, Asian Studies, Economics, Environmental Studies, History, etc.
Professional Development category includes, but not limited to, Engineering Ethics, Business Studies, Entrepreneurship Studies, etc.
Natural Sciences category includes Biology, Chemistry, Physics, Astronomy, and Earth Sciences.
A complete list of courses is maintained at the JI Undergraduate Education Office.
Advanced Mathematics (3 credits):
The advanced mathematics requirement can be fulfilled by taking , , , , , , or other courses approved by the MSE Program Advisor. Any qualified credits in excess of 3 may be applied to the Flexible Technical Elective or General Elective categories.
MSE Electives (9 credits):
This category can be fulfilled by taking 9 credits from a list of upper level technical courses in MSE and related areas, such as and . The list of courses is maintained by the JI Undergraduate Education Office.
Any credits in excess of 9 may be applied to the Flexible Technical Elective category.
Flexible Technical Electives (12 credits):
The flexible technical elective requirement may be fulfilled by taking courses in MSE or in other engineering, biology, chemistry, mathematics, and physics fields.
Any credits in excess of 12 may be applied to the General Elective category
General Electives (9 credits):
General electives are intended to allow students to explore any dimension of intellectual endeavor that they elect, in both technical (including engineering) and non-technical fields. This requirement can be met by any course subject to the following restrictions:
A maximum of 4 credit hours of research work (including PRP, IAP, and independent study) can be counted towards graduation.
Students are encouraged to select their general elective classes either to explore an area of cultural interest or to explore an area of professional interest such as:
Management, business, or finance classes in preparation for working in industry.
Classes to prepare for further study outside engineering such as medicine, dentistry, law or education.
Additional language, literature or culture classes to prepare for a career in the global economy.
Additional Materials Science and Engineering classes to go into more depth than the limited program of technical electives allows.
Engineering classes in other departments in preparation for graduate school outside Materials Science and Engineering.